Apartment on the sea rental.
The "Oasi Rio Beach" is a private residence with several apartments, that has been run by the Massa family for over two decades.
They aim to give you a welcoming stay in a family atmosphere. Recently, they have also started doing the "Bed & Breakfast".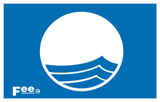 The oasis is near the city centre, well connected by public transport, and is directly connected with the beach.
The residence is inside a property fenced with a wall and has easy access to the beach, even for people with physical disabilities.
In our residence you can find private car parking; a little inner beach where children can play in a safe place; outdoor cabins; shower with warm water coming from a solar plant; gazebo with table and chairs where you can eat, play, read or relax; barbecue; lavatories and washing machines; beach service (beach umbrellas and deckchairs). The area is covered by WIFI signal for free Internet access.
You can do typical sea sports, like windsurfing, sailing and fishing. Apartments are well-maintained and furnished for a pleasant stay, all have a SAT tv and also air-conditioned. The proprietors, living in the residence, are always available for any need.